Nuevofest returning in July at FringeArts – RSVP now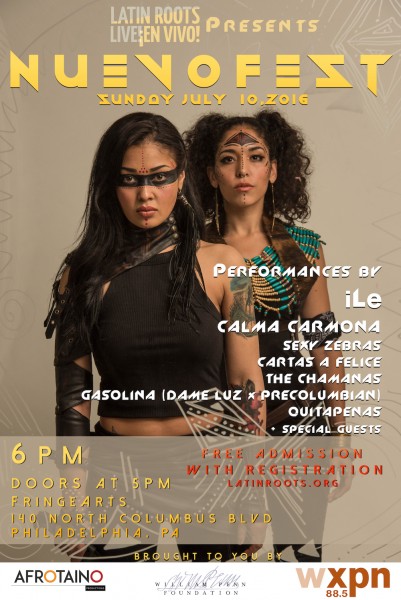 NuevoFest is back!
The free festival celebrating the new sounds of Latin American music returns on Sunday, July 10 at FringeArts as part of WXPN's Latin Roots Live! concert series. Seven bands will be featured in the free concert including:
iLe (Vocalist from Puerto Rico's world reknown alt-rock, hip-hop flavored Calle 13)
The Chamanas (A fusion of 70's Mexican pop, traditional latin rhythms, and modern indie music)
Cartas A Felice (Folk, blues and Swing)
QUITAPENAS (Afro-Latin)
Calma Carmona (San Juan singer-songwriter with pop, rock and dance music influences)
Gasolina (DJ duo, DJ Precolumbian and Dame Luz)
Sexy Zebras (Madrid rock and roll band)
Nuevofest will be held at FringeArts, 140 N. Columbus Boulevard (at Race Street) in Philadelphia. Doors are at 5 p.m. The all-ages show starts at 6 p.m.
The event is free however you must RSVP HERE.
Latin Roots Live! is produced in partnership with Afrotaino Productions and made possible by the William Penn Foundation.