LA VIDA BOHEME TO HEADLINE NUEVOFEST 2017
Back with a musical vengeance, NUEVOFEST – a day-long music extravaganza celebrating the new sounds of Latin America returns this summer to Fringe Arts on Sunday, July 16th. The biggest one yet, NUEVOFEST's eight band showcase is comprised of a diverse and wide array of alternative bands.  Over the year, these performers have expanded into new territory within their respective genres; Some of those bands are already regarded as soon-to-be-household names in their fan base circles, and some have already conquered the world over and over by staying on the forefront of their musical career. The latter would explain the recruitment of this year's NUEVOFEST headliner, Venezuela's LA VIDA BOHEME.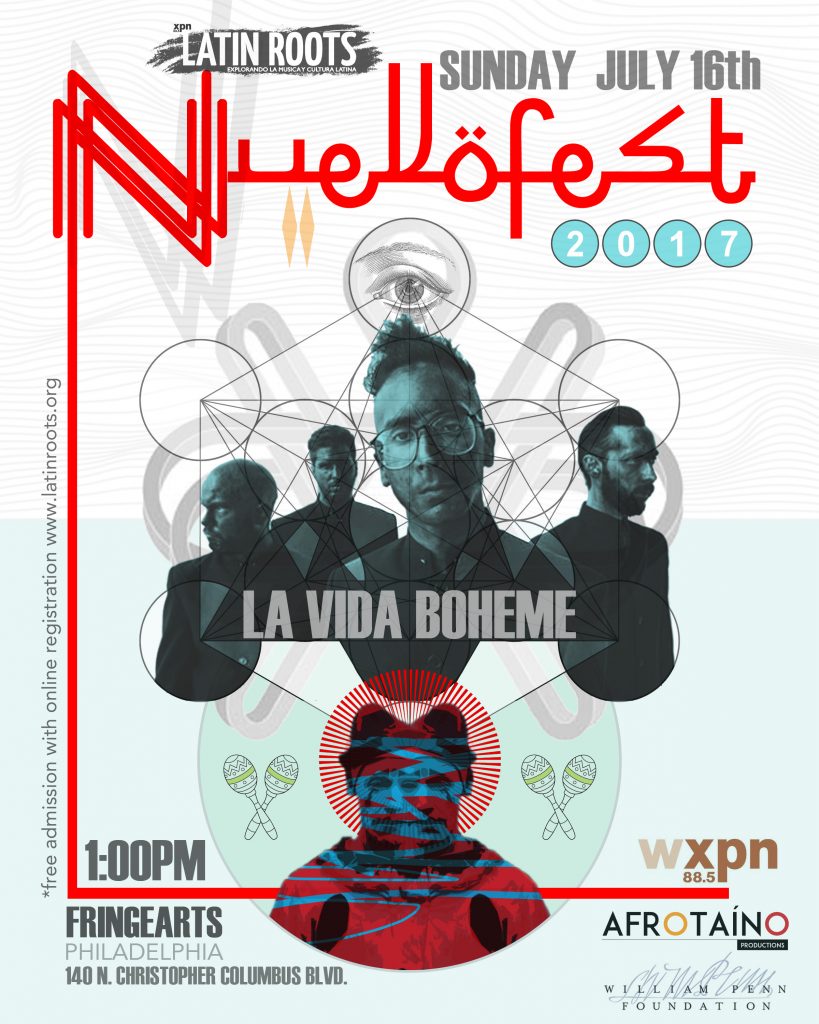 The two-time Latin Grammy-winning band released the critically-acclaimed album, 'La Lucha' in early 2017, which, in turn, has quickly elevated the group into a new level of stardom. Imagine the creative space where The Clash (in full "Rock The Casbah" popularity) meets a young U2 in the thick of their 'Sunday Bloody Sunday' moment: this is where LA VIDA BOHEME is now.
With strong production from Eduardo 'Visitante' Cabra (of Calle 13 fame), the band has woven a glossier sophistication into the gritty fibers of their punk/dance musical roots. The songwriting has refined as well, displaying a growth from the call and response rawness of their earlier works. But nothing can be disputed when it comes to their live performance, as they are as electric & fiery as ever.
Fueled by angst caused by the humanitarian crisis in Venezuela – a crisis that forced them to leave everyone and everything behind in Caracas and relocate to Mexico City – the bandmates are expats living in the conflict-riddled realities of a socio-political battle zone, one that continues to compromise the lives & freedoms of an entire nation.  Those pressures have allowed them to create a musical diamond of an album. In humbler words, LA VIDA BOHEME, at this particular moment, is poised to become one of the most important bands of Latin America of all time.
NUEVOFEST's organizers (WXPN & AfroTaino Productions) know how crucial & important this show is going to be. Now you know why you shouldn't miss this it.
Sunday, July 16
@ FringeArts – 140 North Christopher Columbus Blvd.
Philadelphia, PA
Doors 1PM; Music 2PM
Free Admission with online registration